The marketing definition starts with "profitably offering". Marketing is all about offering products/services that someone (e.g. end customer) who values it and is willing to exchange it at a price that makes your business profitable. Profitable sales are accomplished by a combination of better addressing customer needs and improving the perception of value in an existing product.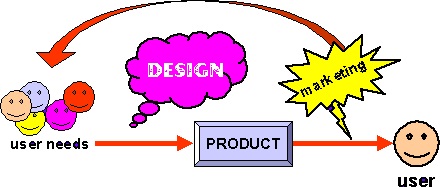 Customer-Centric Product Development
Customer-centricity itself refers to the idea of putting customers at the heart of the business: to truly understand customer needs (or problems they face) and address those needs by designing and offering differentiated products and/or a signature customer experience. However, it does not necessarily mean businesses should let the customer decide how to meet their own needs (i.e. being customer-led).
Understanding customer needs requires extensive research conducted while offering customers ongoing customer support, continuously listening to customer feedback to understand how the business could improve their experience, and involving customers [along with employees and distribution channels] in the design of products, product experience, and in shaping business strategy. Effectively meeting customer needs requires a business to understand its competencies and to build upon those competencies, so businesses should weight the financial requirements of designing new products and experiences against the significance of the customer group to the business. It also requires employee engagement: every employee should know how to serve/delight customers and should want to do so in every possible way.
Once genuinely engaged and loyal employees delight customers by offering differentiated products and experiences that meet customer needs, the company derives more productivity from its employees, and the customers perceive more value in the company's products, leading to higher customer acquisition, retention (both in customer loyalty and customer forgiveness), and referral rates.
A customer-centric approach requires extensive research in addressing the following questions:
What is the problem people have that this product solves?
How (and how else) is the problem solved?
How much does the product cost?
What are our competencies and employee strengths?
What does the product look and feel like?
Do we need to modify the product to meet customer needs?
How do we make our products impossible to copy?
Value Perception
Value perception refers to the customer's perceived total benefit derived from purchasing a product compared to the perceived performance-related, financial, and psychological risks of buying the product. While promotion attracts customers, value perception keeps customers interested. Marketers use strategic pricing and marketing details such as packaging, product brand, customer service, and terms of sales (e.g. warranty, money-back guarantee) to reduce perceived risks and improve the perceived benefits of products.